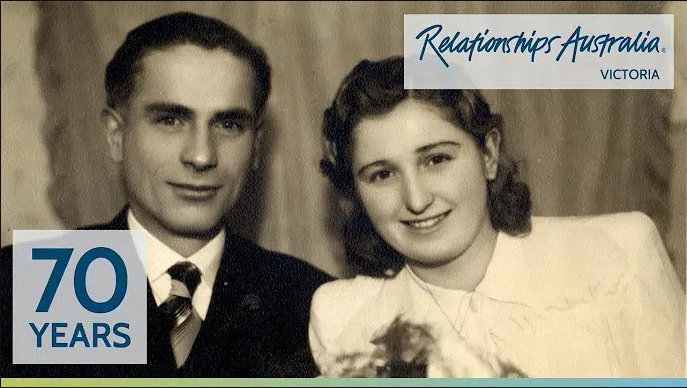 By Dr Andrew Bickerdike
3 July, 2019
In 2018, Relationships Australia Victoria (RAV) celebrated our 70th anniversary – an important milestone in our organisation's history.
RAV first began in 1948 as a modest but aspirational organisation called the Marriage Guidance Council of Victoria. It was established by a group of professionals, including clergy, doctors and lawyers, who were concerned about the increasing prevalence of divorce following the Second World War, and the impact on families and society. In those early years, volunteers and some professionals primarily offered marriage education and couples counselling, with a focus on assisting couples who were experiencing difficulties to stay together, and on preventing future marriage difficulties.
Throughout our history, one of the enduring characteristics of our organisation is that it deliberately seeks to change, improve and adapt. Consequently, over our 70-year history, we have grown and evolved significantly.
To find out more about the history and culture of our organisation in a short video produced to help mark our 70th anniversary. Watch it here.
In the late 1970s and early 1980s, the organisation recognised the needs of couples who were separating for support to enable them to agree on settlements for their assets and the care of their children, and avoid litigation where possible.
At the time, with mediation a relatively new area of service delivery, the organisation undertook a significant study trip to the United States to find out about and determine how mediation services could be implemented in Australia. As a result, by the mid-1980s, we were one of the earlier adopters of mediation, now known as family dispute resolution.
Also in the late 1970s, the structure of our workforce began to change from a network of volunteer counsellors to an organisation employing paid counsellors and mediators.
While we can now look back and consider that the introduction of mediation services was needed and the result of a sound and timely decision, it was in fact a deliberate change, and for some people a controversial change, in our strategic direction. Many in our sector and in the community considered that this service area of separation and divorce was a responsibility of the legal sector, and that a service that assists couples to separate was contrary to our purpose and even enabled the breakdown of marriages.
The needs of our clients have always been the motivation of our organisation, however, and we recognised that our clients were desperately needing assistance during this period of their lives, and that children, in particular, were suffering as a result of a lack of decisions around parental responsibilities.
In the early 1990s we further diversified our services, after we were one of two organisations that received some of the first funding from the Australian Government to provide family violence prevention services.
After this period of growth and change from the early 1980s through to the early 1990s, it was recognised that our name no longer reflected the breadth of services offered and so, in 1992, our name was changed to Relationships Australia Victoria (RAV).
Family violence prevention, support and recovery services have continued to be a focus for RAV since the 1990s and we are now the largest provider of men's behaviour change programs and family safety services in Victoria. Our priority is the safety of women and children, and on holding men accountable for their behaviour and stopping using violence in their relationships.
In the most recent two decades, we have expanded further to provide a range of professional family and relationship services which extend well beyond our original marriage guidance origins.
We provide counselling for individuals, couples and families, including children. We are one of the largest providers of family dispute resolution in Australia, including through our four Family Relationship Centres for which we successfully tendered in the mid to late-2000s.
We deliver a wide range of relationship education services and support young people in East Gippsland through two headspace centres in Bairnsdale and Wonthaggi, and our i-Connect Family Mental Health Support Service.
We offer workplace services and professional training, including a Graduate Diploma of Family Dispute Resolution CHC81115 and a Graduate Diploma of Relationship Counselling CHC81015 (with a Focus on Family Violence), delivered through our Registered Training Organisation.
We offer a specialist Forced Adoption Support Service and Redress Support Services for those considering making an application or needing assistance with an application for the National Redress Scheme.
Our services, many of which are funded by the Australian and Victorian Governments, are provided from 16 locations across Victoria and through additional outreach locations, and telephone and online platforms.
We are a client-centred organisation with a vision for all Australians to have healthy, safe and respectful relationships. This vision is embedded in the values and culture of our organisation, and is evident in the ethos of our staff, who are committed to making a difference in the lives of their clients.
It's a credit to our staff and management – current and past – whose professionalism and commitment to their work has enabled Relationships Australia Victoria to assist over half a million Victorians since 1948.
It is our vision and commitment that has enabled us to evolve and innovate across the years. In reflecting on our 70-year history, we are taking the opportunity to look forward to the future and to consider contemporary ways of working, to ensure that we continue to meet the changing needs of our clients and the wider community.
It is a great privilege to be part of Relationships Australia Victoria. I'm proud of its achievements and the positive impact it has had within the community, and I believe it will continue to have a positive impact in the future.
Dr Andrew Bickerdike is the CEO of Relationships Australia Victoria