Introduction
Would you like to be notified when a new survey report is released? Sign up here
In May this year, Australia celebrated National Families Week, coinciding with the United Nation's International Day of Families. These celebrations highlight the vital role that families continue to play as the central building block of Australian society and communities.
The Australian Bureau of Statistics defines a 'family' as 'a group of two or more people that are related by blood, marriage (registered or de facto), adoption, step or fostering, and who usually live together in the same household' (Australian Bureau of Statistics, June 2016). Data from the Australian Bureau of Statistics show that in 2012-13, there were 8.9 million households and 6.7 million families in the country. 5.7 million of these families were couple families (85%), 14 per cent were one parent families and 2 per cent were 'other' families (based around family relationships that are neither couple relationships nor parent-child relationships). Of the couple families, around 44 per cent had dependants living with them; however, the number of couple families without children is predicted to exceed the number of couple families with children and become the most common type of family between 2023 and 2029.
This reflects the fact that in modern Australia, families are characterised by increasing diversity. The 'traditional' or 'nuclear' family unit, comprising mother, father, and two children is no longer the only way we think about and define our families; rather, the concept of 'family' is dynamic and often involves the transition into different family forms over time. For example, trends in divorce and remarriage have contributed to increasing numbers of one-parent, step and blended families. The 2016 Census found that 8.3 per cent of households contained extended family members and about 43 per cent of children under the age of 13 years were living in non-traditional households, such as with a non-biological parent figure, a sibling, or a grandparent (Australian Institute of Family Studies, 2016).
The focus of Relationships Australia's June 2018 online survey was to find out how Australians think about and define their family in modern society.
Previous research finds that…
There were almost 6 million families counted on Census night in 2016, up from over five million families in 2011. This number is predicted to increase to between 8.9 and 9.0 million by 2036, representing a growth of between 46-47 per cent. (ABS)
Almost one in four Australians (24%) live in single-person households, and this number is growing.
The number of same-sex couple parented families in Australia is growing, as is the acceptance of the equality of same-sex couples. Research indicates that overall, children raised in same-sex parented families do just as well emotionally, socially and educationally as other children. (Australian Institute of Family Studies)
Defining the family boundaries of Aboriginal and Torres Strait Islander families can be particularly challenging, as for some Indigenous communities, kinship terminology differs from the "Anglo-Celtic" system (Morphy, 2006).
Grandparents commonly care for grandchildren, with 65 per cent of grandparents doing caring duties at least once a week in 2011.
84 per cent of Australian born people say they would turn to family for help during a trying time, compared with 58 per cent of newly arrived migrants.
Carers, especially foster carers to children, fall within the definition of 'family'. In 2015, 2.7 million Australians were carers.
Results
Around 900 people responded to the Relationships Australia monthly online survey in June 2018. Just under four fifths (78%) of respondents identified as female, with more female than male respondents in every age group (see Figure 1 below). 85 per cent of respondents were aged between 20-59 years, and 57 per cent comprised women aged 20-49 years. As for previous surveys, the demographic profile of survey respondents remains consistent with our experience of the groups of people that would be accessing the Relationships Australia website.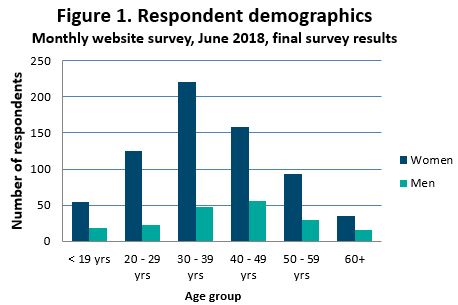 Per Figure 2, survey respondents who identified as male were more likely (45%) than their female counterparts (38%) to describe their family as a 'nuclear family' (defined as one or more parents and their children living in the same residence or sharing the closest bonds) and respondents aged under 19 years were the most likely to describe their family this way compared to the other definitions given. Survey respondents aged over 60 years were more likely to report a broad mix of family types and definitions.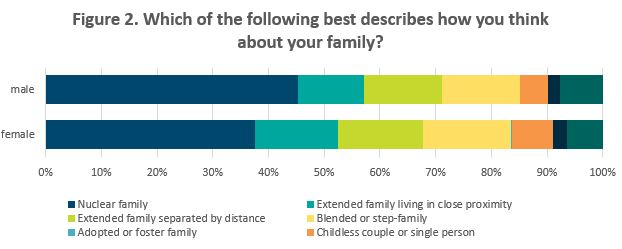 Survey respondents aged over 60 years were also the most likely to report the least number of people who come to mind when thinking about family (Figure 3). There was little difference between the reports of men and women.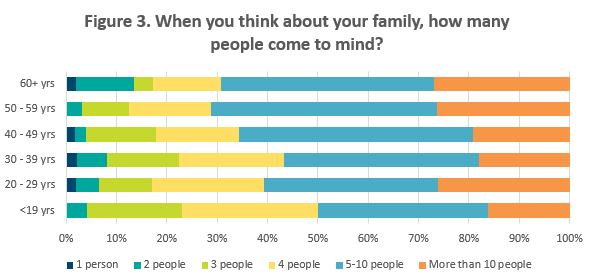 People aged under 19 years (26%) and over 60 years (29%) were the most likely to report that they could only ask one person in their family for help if in need (Figure 4). On the other hand, around one third (31%) of respondents aged 30-39 years reported they had a large amount (5-10) family members to whom they could turn for help. Comparing gender, 24 per cent of men reported they had just one family member they could ask for help, compared with 19 per cent of women.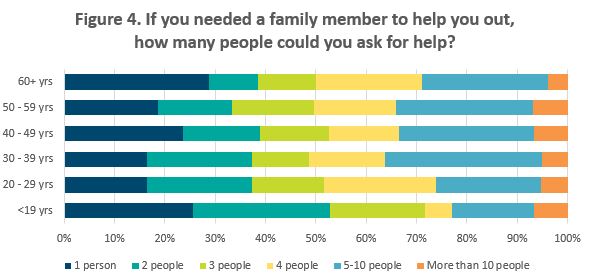 When asked to choose as many as applied, the majority of survey respondents reported that the bonds of love, closely followed by blood bonds, are what tie them together as a family (Figure 5).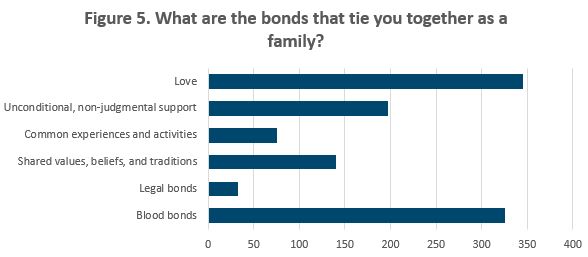 The most common answer to the question about what makes their idea of a family change (Figure 6) was the occurrence of a stressful life event such as death, family violence, conflict, or trauma. Whether someone marries was the least likely response given to the question of what might change people's ideas about what makes a family.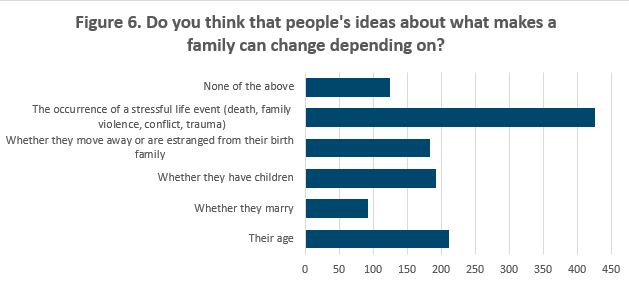 Two-thirds of men (33%) reported that family should be defined as 'immediate family related by blood, marriage, de facto, same-sex relationship or legal adoption', compared with 25% of women. The majority of both male and female respondents (67%) reported that the definition of a family should be inclusive of each of the definitions given (Figure 7).