In November 2020, Relationships Australia joined the international long-term research study known as Families Un-locked led by Dr Gabriela Misca, in collaboration with Griffith University researchers, Associate Professor Lynne Briggs and Dr Patricia Fronek and in partnership with Relate UK. The research aims to understand the impacts of COVID-19 on relationships across the two countries. Phase 2 of the Australian survey is currently underway and accepting participants (both those new to the study, as well as those who have participated before). You can get involved here.
Today, Relationships Australia is excited to share some initial findings that explore how couples have managed during these challenging few years. At this stage, the survey has had over 2500 participants, 70% of which are in couple relationships. Preliminary findings suggest that our Australian sample has coped better than their UK counterparts. Table 1 illustrates that during lockdowns, across all categories, couples in Australia reported less challenges. There are several possible reasons for this.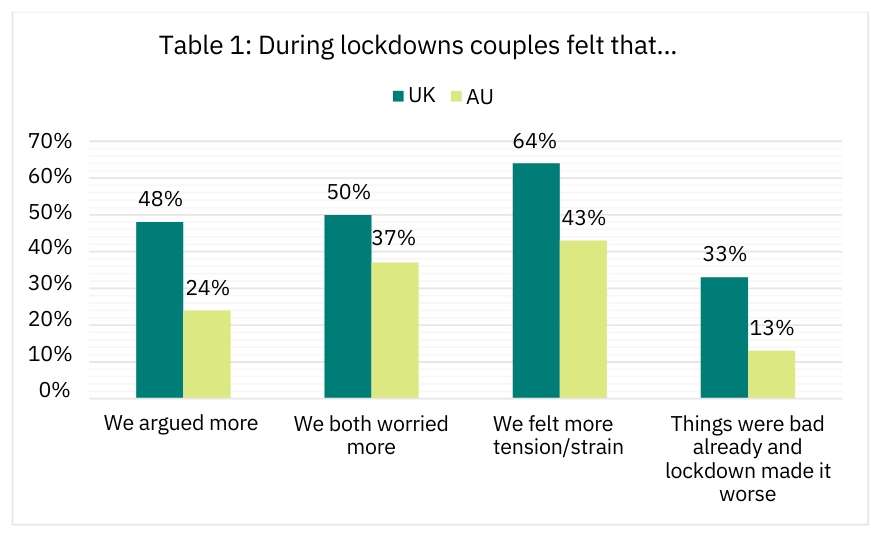 These numbers are taken from phase 1 of the survey, conducted in the UK between August 2020 and January 2021. While the Australian numbers were collected from November 2020 to June 2021. With the exception of those in Victoria, at that stage of the pandemic, the majority of Australians had only experienced one major lockdown; during March and April 2020. Other research has shown that the cumulative effects of lockdowns is considered a psychological, economic and social stressor (Kira, Shuwiekh, Rice, et al., 2020). There is a possibility that as we receive more results from phase 2 of the survey, the Australian sample, who have now endured more lockdowns and the ongoing effects of border closures and other COVID-19 related stressors, will more closely reflect the UK.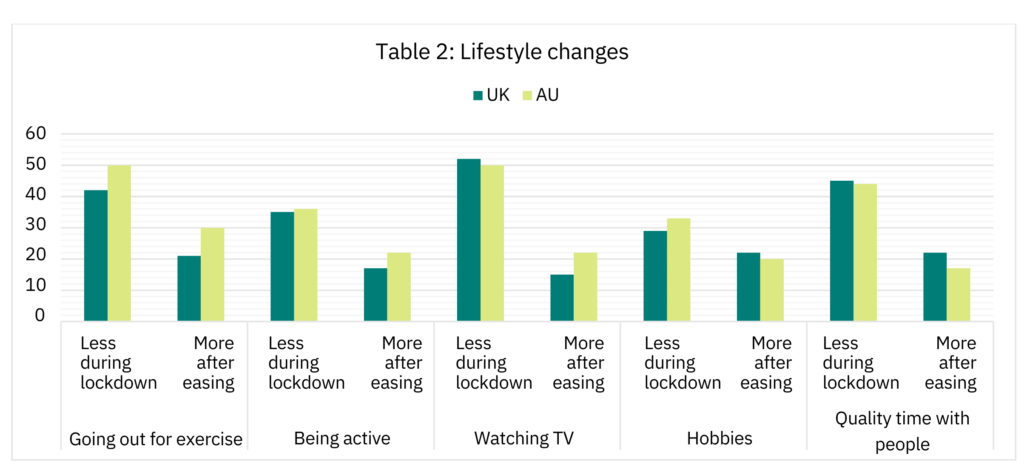 However, other findings also paint a picture of Australians coping better across a range of measures. For example, table 2 demonstrates that while Australians showed similar reductions in healthy lifestyle behaviours such as exercise, hobbies and spending time with others, they were able to 'bounce back' more so than their UK counterparts, except for spending quality time with others. Getting out of the house and active, engaging in hobbies and spending quality time with people are all shown to have a positive effect on our relationships (Ahuja & Khurana 2021; Yorgason et al., 2018; Cruwys et al., 2020). The Australian sample's demonstrated ability to 'bounce back' across a range of activities may help explain some of the better relational outcomes illustrated in Table 1.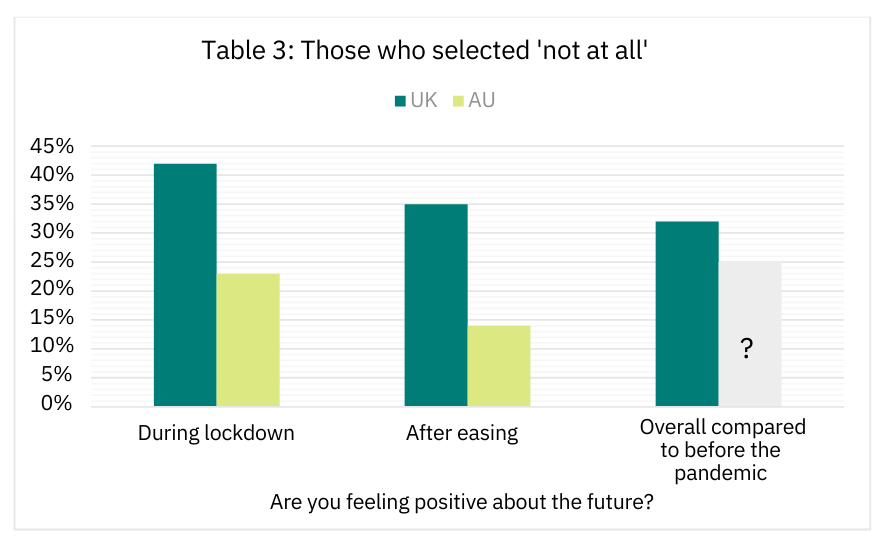 Similarly, Table 3 illustrates that the Australian sample were less likely to say they were feeling 'not at all' positive about the future, both during lockdowns and after lockdown restrictions had been eased. This suggests that at the time of surveying, the Australian sample was feeling much more hopeful about their future.
While these findings provide some valuable insight into how Australians were coping in late 2020 and early 2021, many significant changes have occurred since this time. We predict that the experiences associated with the ongoing pandemic during 2021 may lead to different results. As we approach the end of the year, it is an important time to reflect on our relationships and how they have been affected by this pandemic. We hope you will take the opportunity to share those reflections with us, by completing the survey.
Bibliography
Ahuja, K., and Khurana, D. (2021). "Locked‐Down Love: A Study Of Intimate Relationships Before And After The COVID Lockdown". Family Relations, vol 70, no. 5, 2021, pp. 1343-1357. Wiley, https://doi.org/10.1111/fare.12582.
Cruwys, T. & Fong, P. (2020). Neighbour Day in the time of the COVID-19 pandemic: A Special Report 2020. Relationships Australia and The Australian National University.
Yorgason, Jeremy B. et al. "Marital Benefits Of Daily Individual And Conjoint Exercise Among Older Couples". Family Relations, vol 67, no. 2, 2018, pp. 227-239. Wiley, https://doi.org/10.1111/fare.12307.Kira, I., Shuwiekh, H., Rice, K., Ashby, J, Elwakeel, S., Sous, M., Alhuwailah, A, Baali, S., Azdaou, C., Oliemat, E. & Jamil, H. (2020). Measuring COVID-19 as traumatic stress: Initial psychometrics and validation. Journal of Loss and Trauma: International Perspectives on Stress & Coping. Online first.