Introduction
Australia is leading the world in successful donation and transplant outcomes. In 2016, a record number of people received organ transplants from 503 deceased organ donors and 267 living donors. These numbers have been substantially increasing since 2009; however, the availability of organs and tissues continues to be outweighed by the need for transplantation.
Organ donation can significantly improve the lives of transplant recipients who have genetic conditions or severe illness and disease by allowing them to be healthier and more active. When compared to the costs of ongoing treatment for people who need transplants, transplantation also realises significant cost benefits. Waiting lists for organ transplantation are used for each transplantable organ, and at any one time, around 1,600 people are on the list in total across Australia. Waiting times can vary from six months to more than four years depending on the availability of suitable organs. Donated organs are allocated to recipients equitably, without taking into account race, religion, gender, social status or disability.
There are many personal reasons why someone might decide to become or not become an organ and tissue donor, and it can be a sensitive subject to the potential donor and their family. Those who would like to be organ and tissue donors can register with the Australian Organ Donor Register. In Australia, the families of deceased people who are potential donors must consent to their loved one's decision to donate, even if the potential donor is registered. Families who know the donation decision of their loved ones because they have discussed organ donation are more likely to uphold their wishes.
Relationships Australia's August 2017 monthly online survey asked visitors to our website a few questions about their views and knowledge of organ donation.
Previous research finds that…
Almost 70% of Australians are willing to become an organ and tissue donor, and just over half have made a decision on whether to become a donor;
More people aged over 65 years have made a decision than young people aged 18 to 29 years;
More than 60% of families give consent for organ and tissue donation to proceed;
74% of Australians feel it is important that they know the wishes of their family members, but only 36% are confident they know what their family would want.
Only 1% of people die in circumstances in hospital that will allow for organ donation;
6 out of 10 people say they have discussed organ and tissue donation with their loved ones.
Results
Around 1150 people responded to the Relationships Australia online survey in August 2017.  Just over three‑quarters of survey respondents (77%) identified as female, with more females than males responding in every age group (see figure 1 below).  Roughly 50 per cent of respondents comprised women aged between 30-49 years (inclusive).
As for previous surveys, the demographic profile of survey respondents remains consistent with our experience of the groups of people that would be accessing the Relationships Australia website.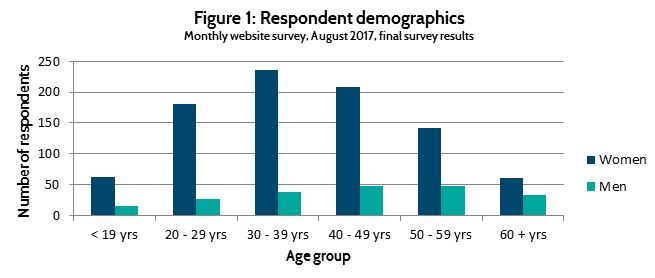 The vast majority of both men and women (women –95%, men -90%) answered affirmatively to the question of whether they had ever considered donating their organs and tissues, and only 5 per cent of women and 8 per cent of men stated that this was not something that they had considered before (figure 2).

Survey respondents were asked how comfortable they are to talk about organ and tissue donation. About 70 per cent of both men and women responded that they were 'very comfortable'; while 17 per cent of men and 21 per cent of women reported that they were 'fairly comfortable'. More men (6%) than women (2%) reported that they were 'fairly uncomfortable' talking about organ and tissue donation (figure 3).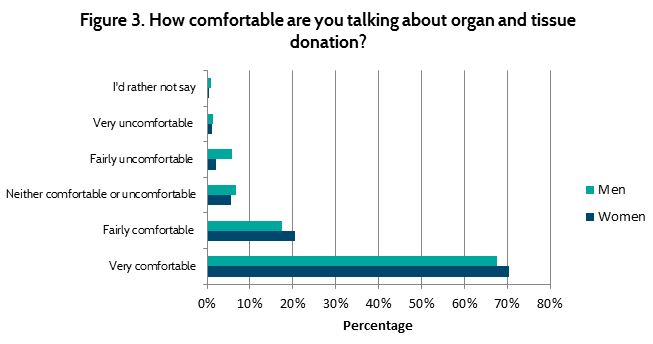 Both male and female survey respondents were most likely to report that they have discussed their wishes to donate their organs and tissues with their family. More women (35%) than men (21%) stated that they had not discussed their wishes with their family (figure 4).

Figure 5 shows that the significant proportion of both men (45%) and women (50%) were 'very confident' that their family would follow their organ and tissue donation wishes after they die. Fewer respondents (7 per cent of men and 5 per cent of women) reported that they were 'not very confident' that their wishes would be followed if they were thinking about organ and tissue donation.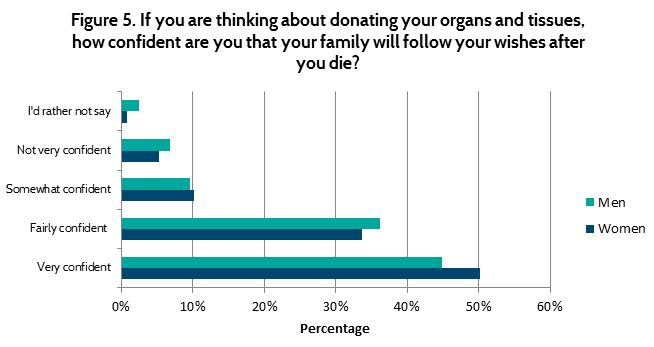 Whilst a significant proportion of male and female respondents reported that they were 'fairly confident' that they know the wishes of their family members about organ and tissue donation (women -29%, men -31%), this was closely followed by respondents who reported that they were 'not very confident' about whether they know their family members' organ donation decisions (women -26%, men -25%) (figure 6). Figure 7 shows that the majority of survey respondents would use websites, online resources or published brochures to get more information and support on organ and tissue donation. More women (70%) than men (56%) responded that they would get information from their family and friends, and about 8 per cent of both men and women reported that they would not seek out more information or support at all.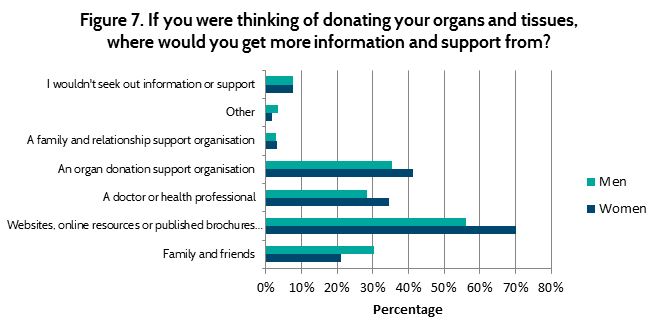 References
Oberender, F. (2011), Organ donation in Australia. Journal of Paediatrics and Child Health.