Introduction
Would you like to be notified when a new survey report is released? Sign up here
In celebration of Neighbour day, which is held on the last Sunday of March each year, Relationships Australia asked website users how their relationships to their community had changed during the natural disasters which occurred across Australia during January and February of this year. Given the COVID-19 crisis, these findings have particular resonance. They provide promising insights into how social upheaval can influence the way we socially connect with our communities, beyond crisis recovery.
Key Findings
83% of people who experienced a change in their relationships with their neighbours experienced a positive change.
People who have more opportunities to meet others in their community were 2.9 times more likely to experience positive community relationship changes.
Previous Research
Relationships Australia has conducted a significant amount of research through our Neighbour Day campaign and in collaboration with universities, investigating how creating stronger communities may reduce loneliness and mental ill-health.
During January and February of this year, our online survey found that 74% of people identify with their neighbours, 67% are willing to help their neighbours, 65% trust their neighbours, yet only 47% described their neighbourhood as close-knit. Of course, given current circumstances, many are connecting with their neighbours socially for the first time (see ABC article).
Our 2018 Neighbour Day report conducted by the Swinburne University of Technology, found that Neighbour day can lead to continued interactions after the event, increasing neighbourhood trust and, ultimately, perceptions of neighbourhood safety. This often meant people were more willing to offer support to one another (Long & Lim 2018).
Our 2019 report, conducted by the Australian National University, found that people who hosted Neighbour Day events had an increased sense of identification with their neighbourhood, an increased sense of belonging; and perceived their neighbourhood environment more positively (Cruwys, Fong, Robinson & Mance 2019).
For more information on Neighbour Day, please visit the website
This month's survey also investigated people's relationship changes following a disaster. Previous research has found that disasters can have an effect on the collective mental health of a nation and in directly affected communities, and can lead to profound changes in the way communities and families relate to one another.
Recent research by the Australian National University found that 80% of Australians were affected in some way by the bushfires in 2020 (Biddle et al. 2020). 54% of people affected felt anxious or worried about the fires, demonstrating that disasters have a profound effect on a nation's mental health, even when the disaster does not directly affect them or their family.
Longitudinal research by the University of Melbourne illustrated that being separated (physically) during the fires without knowing of the safety of their partner can affect people's mental health years onwards (Gibbs et al. 2016).
The same study found that being involved in community groups improved people's mental health outcomes over time. Strikingly, while living with someone else was protective, the risks of living alone appeared to be

offset by group involvement

(Gibbs et al. 2016).
Results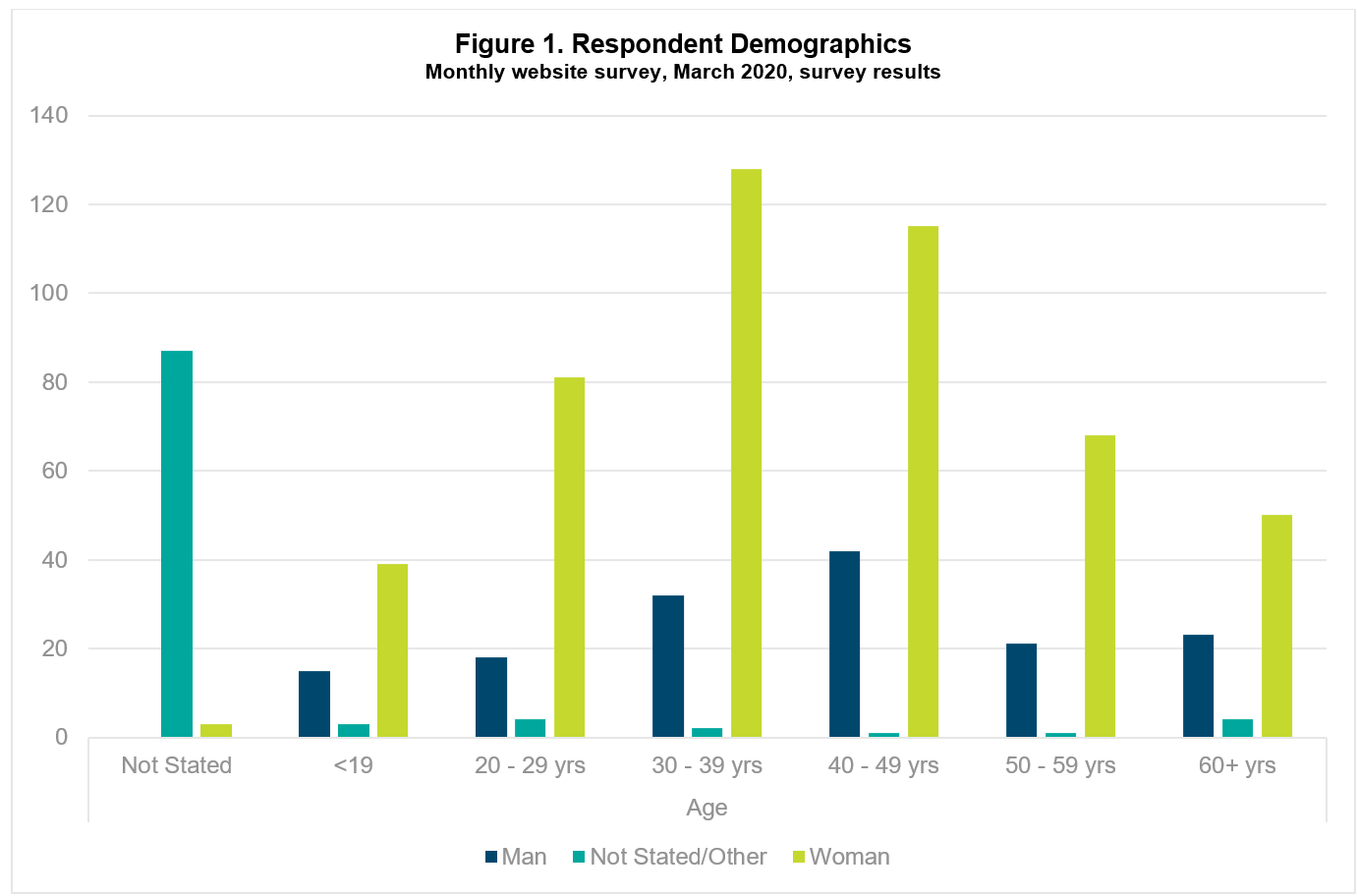 739 people respondent to the Relationships Australia March survey. A majority of the respondents identified as women (55%), aged between 30-59 years (Figure 1). 20% of the respondents identified as male and 12% chose not to provide their age or gender. As for previous surveys, the demographic profile of survey respondents is consistent with our experience of the groups of people that would be accessing the Relationships Australia website.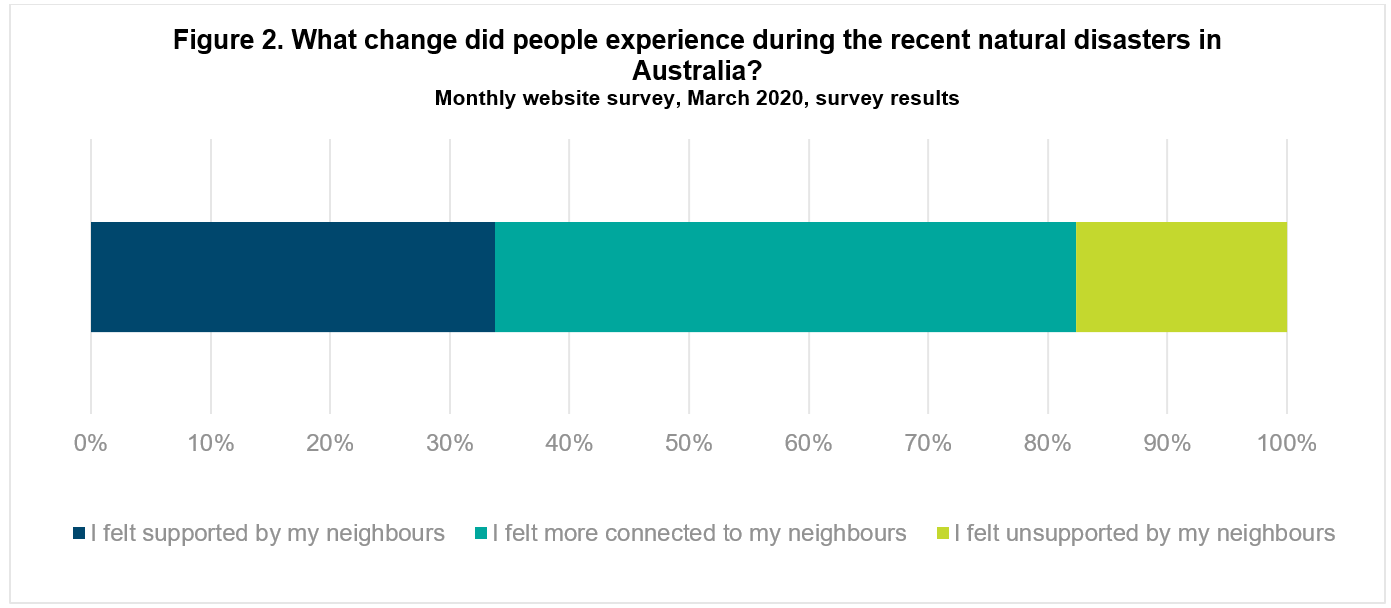 83% of people who experienced a change in their relationships with their neighbours following the natural disasters experienced a positive change (figure 2). This meant they either felt supported (34%) or more connected (49%) to their neighbours. It should be noted that a significant proportion (59%) felt no change following the natural disasters earlier this year. Research has found that the effects of bushfires and flooding were widespread, reaching more than 80% of the Australian community (Biddle et al. 2020). However, only 10% were affected in ways which might trigger notable changes to their community. For example, experiencing direct damage, threat or an evacuation.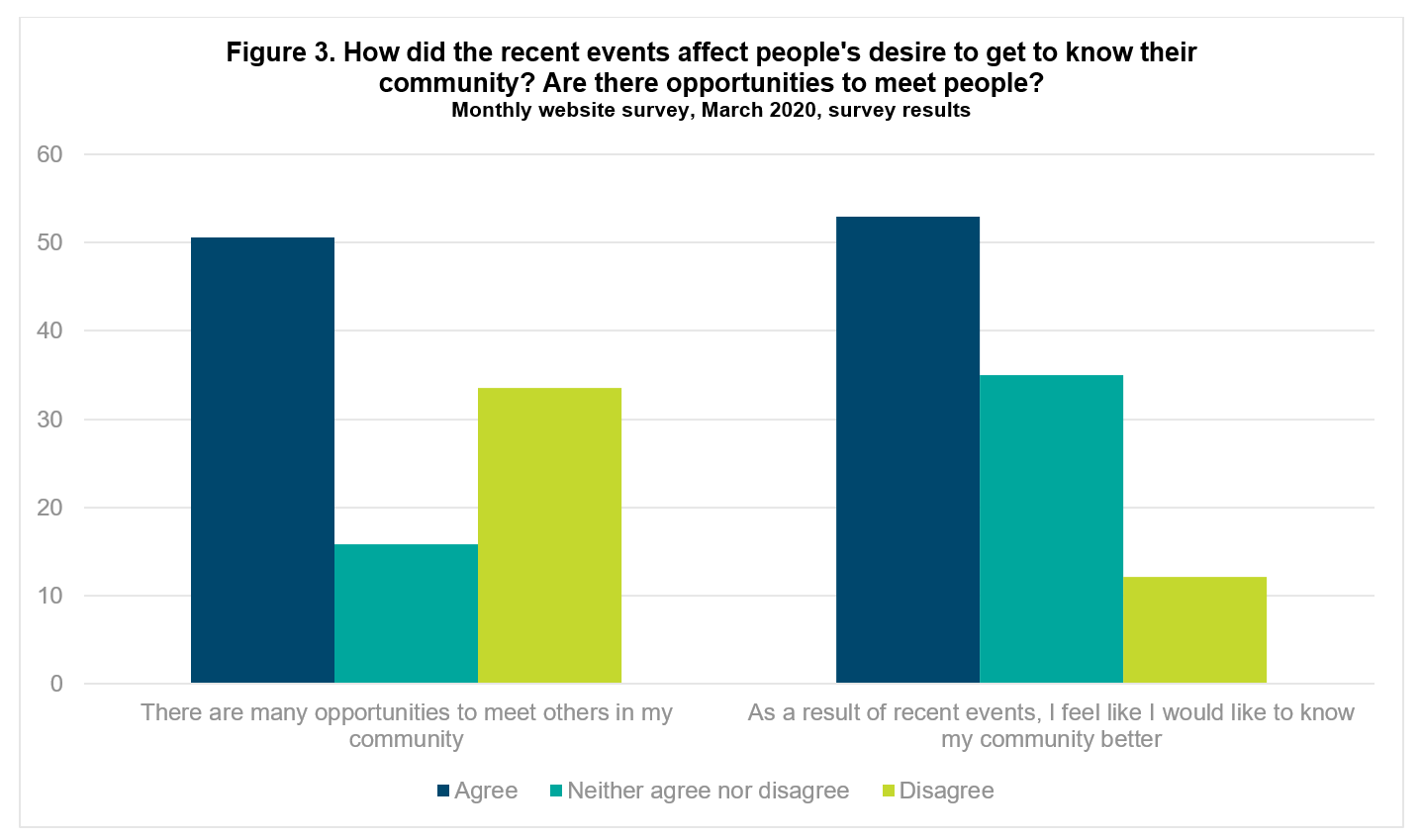 Figure 3 illustrates the rate at which people wanted to know their community better following the disasters, versus the opportunities people feel they have to meet others in their community. 53% of people agreed that they would like to know their community better and 51% of people felt that there were many opportunities to meet their community. Only 12% of people did not want to know their community better as a result of recent events, yet 34% of people said there were few opportunities to meet each other. 35% of people showed indifference to meeting their communities following the disasters. Again, this may be due to the way the question was phrased, asking if due to recent events, people wanted to know their community, rather than a lack of interest in the community itself.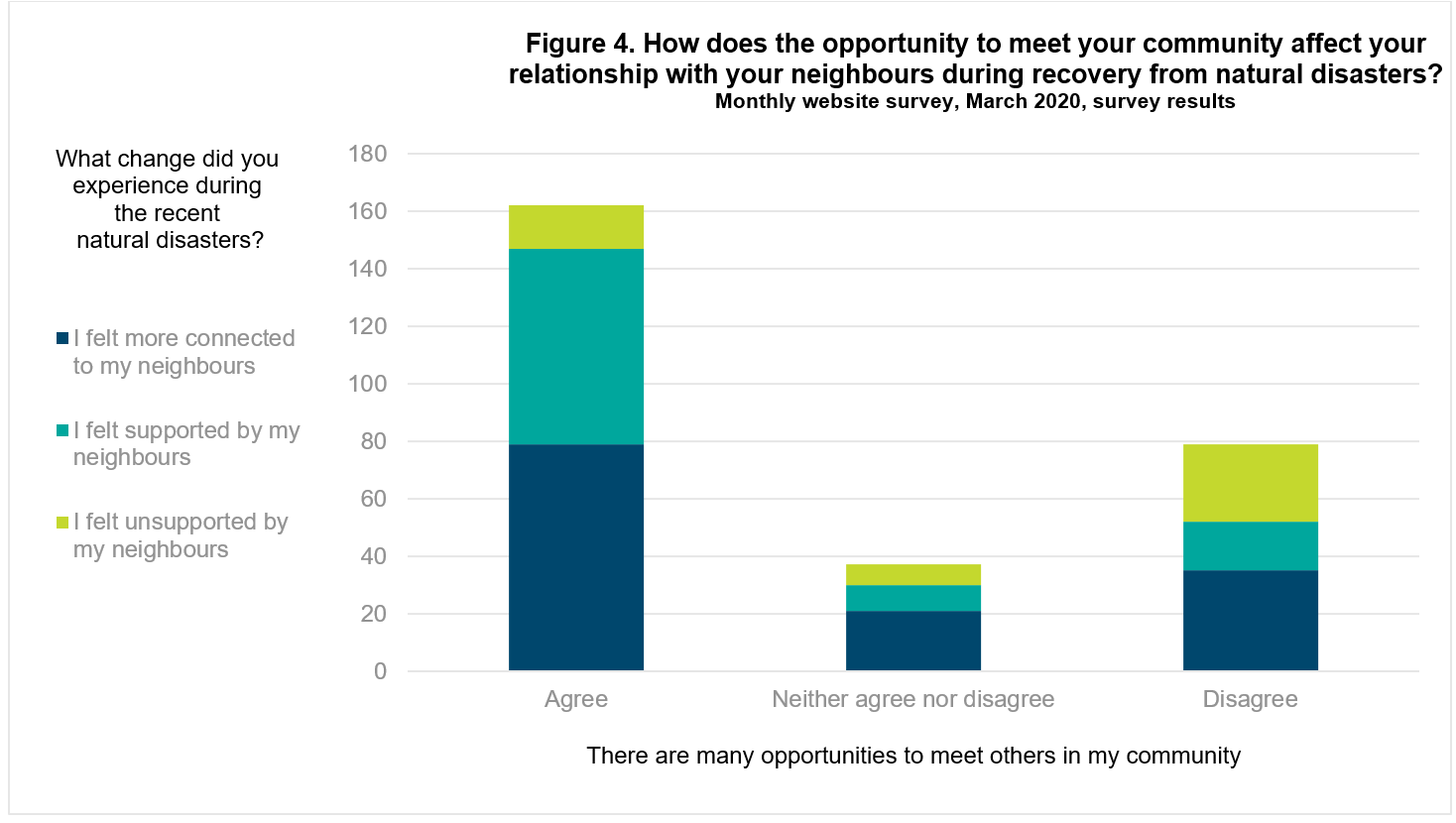 Figure 4 illustrates how having the opportunity to meet your community can affect your relationship with your neighbours during and following natural disasters. People who have more opportunities to meet others in their community were 2.9 times more likely to experience positive changes in their relationships with their neighbours and community following a disaster. Similarly, those who felt that they did not have many opportunities to meet people in their community made up 55% of the people who felt unsupported by their neighbours during the disasters. This supports the work by Gibbs and colleagues, suggesting that community engagement and involvement can change the way we experience disasters.
If you would like tips on how to connect with your neighbours in creative ways during this period, please see our creative connections tips.
References
Biddle N, Edwards B, Herz D, Makkai T. Exposure And The Impact On Attitudes Of The 2019-20 Australian Bushfires. Canberra: ANU Centre for Social Research and Methods; 2020. https://csrm.cass.anu.edu.au/sites/default/files/docs/2020/2/Exposure_and_impact_on_attitudes_of_the_2019-20_Australian_Bushfires_publication.pdf. Accessed April 2, 2020.
Gibbs L, Bryant R, Harms L, Forbes D, Block K, Gallagher HC, Ireton G, Richardson J, Pattison P, MacDougall C, Lusher D, Baker E, Kellett C, Pirrone A, Molyneaux R, Kosta L, Brady K, Lok M, Van Kessell G, Waters E. Beyond Bushfires: Community Resilience and Recovery Final Report. November 2016, University of Melbourne, Victoria, Australia.