Introduction
Out of home care (OOHC) refers to the care, support and accommodation that is provided by alternate caregivers to young people who cannot live with their own families.
Across Australia, formal state support and housing for young people in OOHC ceases at the age of 18 years, and sometimes stops when the young person reaches 16 years. Yet current trends reveal that increasing numbers of young people are remaining at home with the financial and emotional support of their parents well into their twenties (Australian Government Department of Families, Housing, Community Services and Indigenous Affairs 2010). As such, many of the children who leave state care are often significantly underprepared to enter independent adulthood, and as a result can face poorer mental and physical health outcomes such as high rates of homelessness, incarceration, and unemployment(Anglicare Victoria 2016).
Each state and territory has a unique policy and legislative framework that governs its child protection system. Whilst most jurisdictions provide for the extension of state care past the age of 18 in its legislation or policy, this is exclusively on a discretionary, rather than a mandatory basis. Currently, no state or territory jurisdiction in Australia mandates the provision of formal state care of young people past the age of 18 years.
In recognition of this, Relationships Australia recently joined the Homestretch campaign, which is lobbying for the age OOHC for young Australians to be extended from 18 years to 21 years. Relationships Australia's October 2017 online survey asked respondents for their opinion on whether state care should continue past the age of 18 years and whether the transition out of OOHC should be supported by the government.
Previous research finds that…
This year, around 3,000 of the 43,000 children currently in OOHC across Australia will be 'evicted' from the care system and transition into independent adulthood by, or before, the age of 18 years;
43-65% of care leavers have poor mental health outcomes (depression, anxiety, PTSD, panic attacks, sleep disorders);
35% of care leavers will be homeless within the first year of leaving care;
46% of male leavers will be in the juvenile justice system;
29% of leavers will be unemployed; and
Extending OOHC to 21 years will significantly reduce the probability of homelessness, as well as drug and alcohol dependence.
Results
More than 680 people responded to the Relationships Australia online survey in October 2017, with more just under eighty per cent of survey respondents (79%) identifying as female.
As was the case for last month's survey, more females than males responded in every age group (see figure 1).  Eighty-five per cent of survey respondents were aged between 20‑59 years, with more than half (56%) of responses contributed by women aged between 20-49 years (inclusive).
The demographic profile of survey respondents remains consistent with our experience of the groups of people that would be accessing the Relationships Australia website.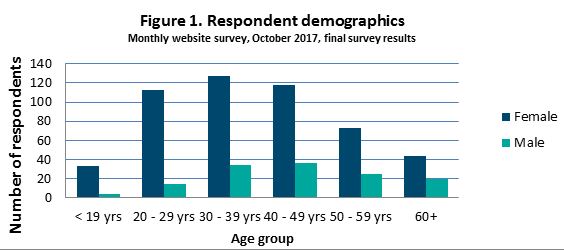 There were significant differences between the reports of men and women on all survey questions.  Women (78%) were more likely than men (63%) to think the support of young people in state care should extend beyond the age of 18 years (see figure 2).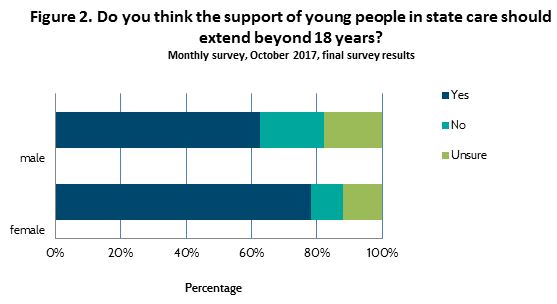 Survey respondents were asked if they thought the government should provide financial reimbursements to the foster or kinship carers if a young person wishes to stay in their foster care or kinship care placement after they turn 18 years of age.  Almost eighty per cent (78%) of women and of 70% of men agreed.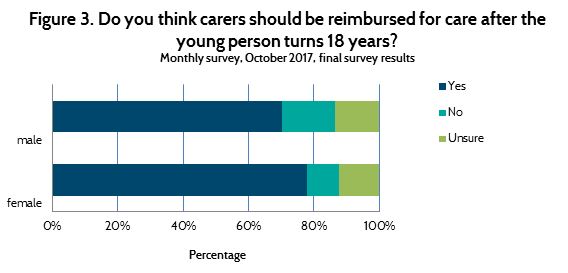 Three-quarters (76%) of women and two-thirds (63%) of men reported that the government should pay young people exiting state care between 18 to 21 years an allowance to help them live independently (figure 4).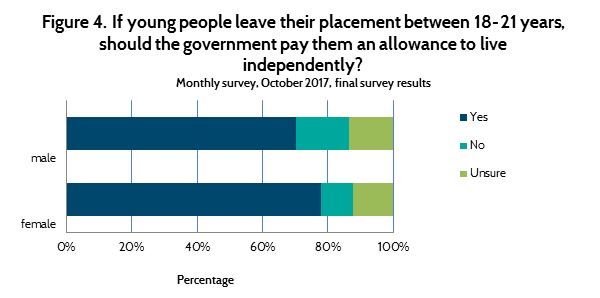 In comparison, almost all survey respondents (women – 96%, men – 92%) thought that the government should support young people leaving state care between 18 to 21 years to access education, housing or employment activities (figure 5).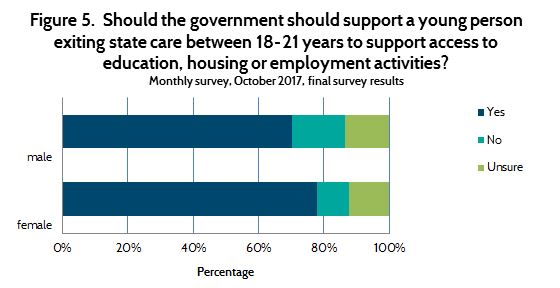 References
Monica Campo and Joanne Commerford, 'Supporting young people leaving out-of-home care', Child Family Community Australia, 2016.
Anglicare Victoria, 'Raising our Children: Guiding young Victorians in care into Adulthood', Report, 2016.
Australian Government Department of Families, Housing, Community Services and Indigenous Affairs, 'Create Foundation – What's the Answer?', Report, 2010.